Concetto rurale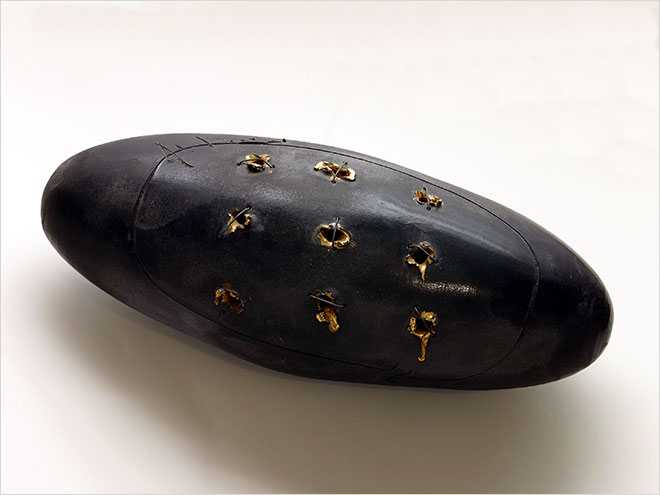 Adriano Bocca, Concetto rurale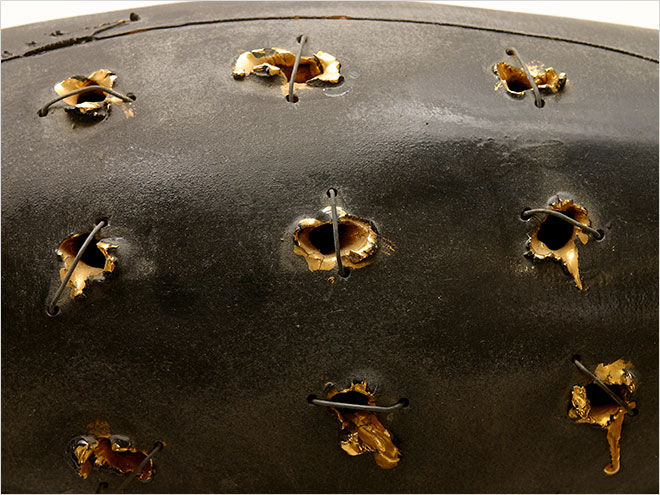 Adriano Bocca, Concetto rurale
Tiziana Casapietra: The work that we selected for the Biennale is called Rural Concept and dates back to 1972. Can you give us some background about this creation and the period in which it was made?
Adriano Bocca: I spent my youth with artists who worked in Albisola at that time and, in particular, with those for whom experimentation was something outside the realm of painting.

TC: Didn't you ever think of this work as an intentionally desecrating act with regard to a figure that then became one of the most important interpreters of contemporary art?
AB: Anyone who knew Fontana realised that he would never have considered anything to do with art as desecrating. Although he couldn't stand vulgarity, he was very permissive as far as art was concerned. In those years, I preferred to follow Fontana and Manzoni. In Albisola there were also painters like Sassu or Capogrossi, but when you're fifteen or sixteen years old, you always choose the extremes. I did what I did with Fontana in order to re-close the space that he had opened.

TC: What did you receive from the Albisola of the Fontanas and the Manzonis?
AB: In those years I was lucky to work in the Ceas laboratory where I could meet men who, like Fontana, were extremely generous with young people like me who were starting to do something. However, their friendliness was offset by extreme rigour. In addition to Fontana, people like Crippa, Garelli… also worked in that laboratory. Then you'd go to Bar Testa where, among others, you would find Fabbri, Capogrossi, Mario Rossello and Dangelo. We lived in close contact with these people the whole working day. Then, if I was lucky, I would even be able to cadge a dinner from Pescetto and continue learning.

TC: Tell me about Ceas.
AB: Ceas, a group of associated ceramists, was a team consisting of three people: Pedrin, a very good wheel turner; Mantero, a kiln man, because that laboratory still fired with wood; and then Platino, the colour man, who prepared the mixes. Here, the artists had remarkable technical support.

TC: Is this what you call the "school" where you were trained?
AB: Yes. You would arrive there in the morning and you stayed the whole day with these people who knew all the techniques and all the tricks, but who also had the skill to invent. At the end of the day if my work didn't turn out the way it should have, Mr. Platino would put his hand on top of it and smash it. It was a tough school, a school of life.

TC: How did those years end? What happened afterwards?
AB: Tullio Mazzotti and Fontana controlled everything. But there was also a great gallery man like Cardazzo and an artist like Jorn. Between 1967 and 1973, all these personages passed away. Without any driving force, Albisola started going through a crisis. This is where Calice Ligure comes into the picture, hosting a new generation of artists including Mondino, Arrojo, Rougemount, Moncada and Dova. In this case it was Scanavino, a native of Calice, who kept things together. I went to Calice Ligure in 1971 to present an exhibition at the Gallery of Franz Paludetto where we met painters such as Nando De Filippi. Instead, there was a void in Albisola during that period, and so I started doing things to attract these artists who in Calice worked with the galleries of Paludetto and Remo Pastori. After all, Calice is just 26-27 km from Albisola. I liked the idea of bringing artists back to Albisola to teach them how to work ceramics. This is how the generation of the Seventies and Eighties was formed in Albisola, and that for us was very gratifying.

TC: Who was working in Albisola between the '80s and '90s?
AB: Eduardo Arrojo and Aldo Mondino were two of some of the most important people who I introduced to ceramics. All these artists ended up leaving some traces of their work in Albisola.

TC: With regard to your experience in Albisola during the years of Fontana and Manzoni, you tried to compensate for the void that had emerged in the '70s by bringing artists back to ceramics.
AB: Fabbri and Rossello were the survivors of Albisola's golden period. One morning I asked Fabbri to help us to fill this void. When I asked him to help, I remember that Fabbri replied by telling me something important: "Look Adriano, now it's up to all of you, we already did our part." And so, based on his answer and out of respect for tradition, we rolled up our sleeves and organised a myriad of exhibitions starting with Ten personages for a museum where a re-interpretation of ten of the greatest personages who had worked in Albisola affirmed a new presence. Meaning us, the youngest ones, like Scrofani, Aonzo and Viale. Wifredo Lam was still alive during that period. I remember the bread exhibition and all the bread sculptures that we made and that Lam had also been involved with. This extensive period ended with the exhibition organised in 1990 by the Chamber of Commerce entitled Albisola. Artists. Ceramics. That exhibition included many artists, meaning any and all those who had worked with ceramics in Albisola.

TC: What happened afterwards?
AB: I had hoped for the same thing that happened with me, that some young people would have the same passion for tradition, for continuing a beautiful story: a story that grows through us.

TC: Then you left ceramics for painting.
AB: Today, most of my activities revolve around painting while I use ceramics only when it helps to explain what my pictures are relating. After the '80s no one talked about art any more. Instead, everyone talked about the market, money, and possible or impossible careers. I felt a sense of decadence spreading throughout Europe and the United States. This was one of the reasons why I decided to go to Asia, a world unaffected by fashion and the laws of the market, in order to study different cultures, to learn new painting techniques, and to dream new dreams.