100 chalices and 100 patens for Pope Benedict XVI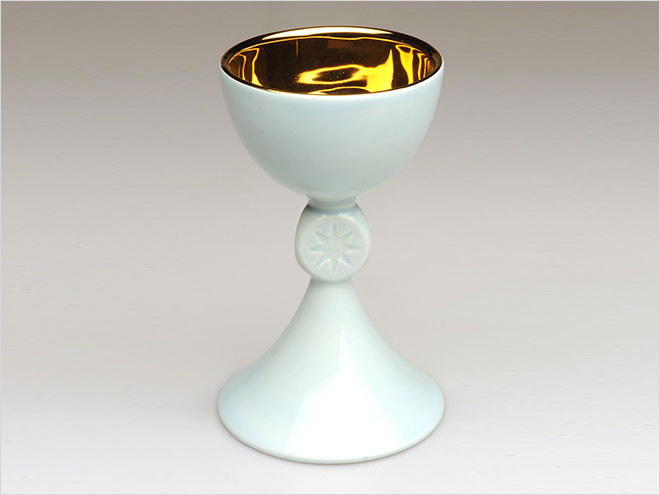 Niccolò Casiddu, The Chalice for the Mass by Pope Benedict XVI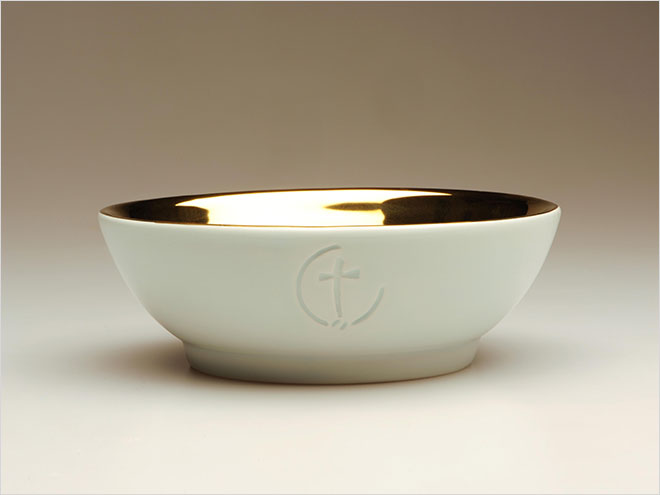 Niccolò Casiddu, The Paten for the Mass by Pope Benedict XVI
On the occasion of Pope Benedict XVI's pastoral visit to Savona on 17 May 2008 to celebrate the Holy Mass in Piazza del Popolo, the town's main square, Attese Edizioni, based on a design by architect Niccolò Casiddu, has created one hundred chalices and one hundred patens for the distribution of the Communion to participating congregants.
The chalice and the paten are made from third-fired gilded ceramic.
In particular, the spherical knot under the chalice's bowl is sectioned along three vertical planes oriented at 120° to create three sides or medallions. These three medallions bear engravings of the papal symbol (with St. Peter's keys), the eight-pointed star (reference to the Madonna of Mercy) and the logo of the Pope's visit (consisting of a cross and a knot as a sign of binding faith and of the city's welcome to the Pope, but also a reference to the three years that Pius VII was imprisoned in Savona by Napoleon). The logo of the Pope's visit is also engraved on the exterior of the paten.


Prototypes of the Chalice and Paten are preserved in the Sanctuary Museum of Savona.