In my uncle's house
Kirsten Plett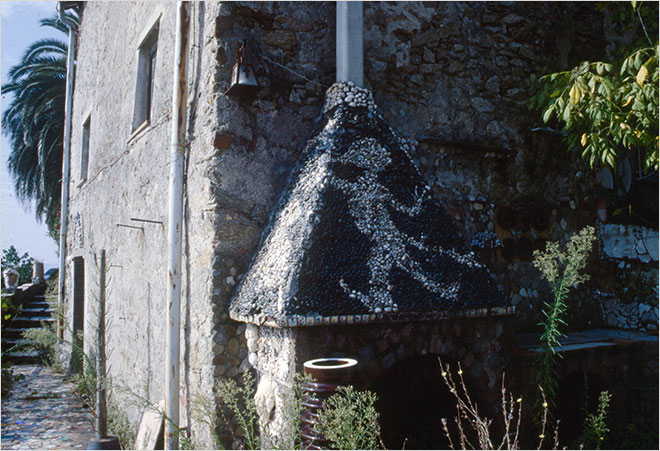 Marco Lavagetto, The House of Asger Jorn in Albisola
In the autumn of 1959, when Asger Jorn's giant ceramic relief for Aarhus was revealed, a miracle happened in my life. The relief had already created a sensation in Denmark, not to mention in my hometown of Silkeborg, where Asger's mother, my grandmother1, lived at the time. The newspapers had for a long time been following the strange events that involved tons of clay in Albissola, Italy, and how the work was progressing.
The finished parts finally arriving in Aarhus accompanied by Salino, Pastorino and Spotorno, the three Italians, who were to work on the final stages of assembling the relief. They visited my home with Asger from time to time and although rumour had it that they had brought a railway coach loaded with pasta, they did not seem to mind my mother's cooking.
What I did not know at the time was that Asger had convinced his mother to spend the winter in one of the houses he had recently acquired in Albissola. The miracle was that she chose me as her travel companion. I was at the time 16 years old and was taken out of school temporarily — that in itself was a minor miracle.
On the 7th of October 1959, just two days after the inauguration of the relief in Aarhus, I was on my way to a foreign country travelling with my grandmother, my best friend, and my grandmother's sister-in-law (whom I hardly knew), a very tired Asger, his Parisian art dealer, and 15 suitcases.
Everything seemed unreal that night on the train through Europe. It had all been decided in such a hurry and now we four women were to spend 6 months together in Italy — not knowing a word of Italian.
We were very excited about what was in store for us. On the way from Genoa we had seen a glimpse of the Mediterranean Sea, but it was dark when we arrived in Savona where Berto2 was ready to help us with the luggages. The excitement grew as the two taxies drove up the steep and winding road to the houses. There was not a lot to be seen in the darkness, but by the house Teresa was waiting with open arms. She and Berto were to help us settle in at first, this was the beginning of a lifelong friendship — since then I have called them my "Italian parents."
The following morning was like waking up to a completely new world. It was like a fairytale. Everything looked so different in daylight. The house was very old with thick walls but restored so that it was liveable. At the time you had to step outside in order to go from one floor to the next and the toilet was underneath the outside staircase. On the ground floor was the lovely spacious kitchen where we were to be introduced to Italian cuisine through Teresa's fantastic cooking. Upstairs there were three nice rooms and we could arrange ourselves as we pleased. The washing facilities were a sink in one of the rooms upstairs or in the kitchen where we could heat up the water. Outside the house was another sink with cold water and this was the place for washing clothes. Teresa taught us how to do this with a piece of soap.
The gas for cooking and the coal were brought up from town, which meant that we had difficulties during a terrible storm that winter when the roads were almost washed away.
It was in fact the coldest winter in a long time and we even had snow when the peach trees were in blossom. We had to have a stove put in the living room and although it was not easy to find anything to keep a fire going, Teresa showed us girls how to collect pine cones and twigs in the woods on the mountain behind Asger's property. At the time, the area above the houses was completely undeveloped and the whole mountaintop was covered with woods. I know that it was Asger's wish that it should remain that way.
The garden was being landscaped at the time and was already quite remarkable with its cave and spring, the big, strange water basin and all the terraces on different levels to which Berto had dragged all the stones and soil. Fruit trees, vines and roses had already been planted and a lot more were added while we were there. The big palm tree growing outside the house today was one I helped plant at the time.
Asger had let Ansgar Elde3 stay in the second house, "La Casa Vecchia," which looked like a ruin at the time. It was good to have him nearby, especially in the beginning when we had difficulties in speaking the language.
The evening before my uncle continued his journey to Paris, everybody who had been working on the relief in Denmark held a big party for him at Mario's. Everyone from San Giorgio accompanied by wives and girlfriends, the four of us, and several of Asger's friends joined the party — it was a fantastic event. During the meal Asger had someone drive him up to the house to get his guitar — now the party could really begin. What an amazing expression of joy and happiness. There were songs in Italian and in Danish, speeches of which I did not understand a word, but were nevertheless very amusing. I remember that Asger got a pipe in a beautiful leather case from Salino. Even the food was a great experience. I will never forget the plate of small fish that was put in front of me with tails, heads, bones and all, and some strange rings that I could not figure out: squid, some one told me! It was all very exotic, but I loved it.
The stay in my uncle's house in Albissola came to mean a lot to me. It is almost impossible to express the impact it has had on my life. Perhaps it may be summed in a phrase: Everything can be different. There are so many other possibilities and other ways.
Everything was different here. Completely different to what I was accustomed to in Denmark. The nature, the people, the language, the food, and the weather. The flowers were blooming in winter and the weather was mild at Christmas. I found sincerity and spontaneity, and people openly expressed their feelings with grand gestures. It was like finding a bubbling joy of life, exuberance and creativity. The weather seemed friendlier but could at times be just as temperamental as the people. The food was wonderful and I gained a variety of new impressions.
Everything in my life has since been measured according to my stay in Albissola and it has influenced my attitude to life in general. For the first time since my childhood all I had to do was to be and explore and I enjoyed it to the full. I absorbed it fully with all my senses. It was as if I grew together with Albissola, with the houses and the garden, with the whole area or maybe it slowly became a part of me.
I have got the old house under my skin. I know what the old slate roof groans when the heat makes it expand and when rain, stones or the hunters' shots bounce of it. I know how the thick walls smell of sun and heat and of moisture when it has been snowing. I also know the sound of the wind in the olive trees, the night song of the frogs in the water basin, the smell of the blooming mimosa and Teresa's rose liqueur. I know the view of the incredibly blue sea and the ever changing sky, the lights in Savona and on the big ships lying at anchor.
When I close my eyes I have since been able to relive it all again. I can walk down to the town through the olive grove and see the pricking fig cactus growing, and on the steep hillside hear a bricklayer singing "O Sole Mio." I then walk the narrow road behind Aurelia with all its small shops. I smell the freshly baked bread, the soffritto and the fresh vegetables. I can see the café where we, the two young girls, used to go accompanied by Berto and the cinema where he took us every Wednesday to improve our Italian.
The creative environment surrounding the ceramics and Asger's friends Gallizio, Lam and Salino also influenced my life. I was there early one morning when one of the kilns was opened at San Giorgio. We had chestnuts and drank wine. I was so fascinated and curious and had to know more. Later I became a teacher with art as one of my subjects. I have been responsible for ceramic kilns and have taught for many years.
Seventeen years passed before I saw Albissola again.
It was the spring of 1973 when, with a pounding heart, I walked up the mountain to Via Brucciati. I was so excited when I saw Berto working in the garden I cried out "Ciao! It's me Cristina!" Berto raised his head and said in a calm voice "Ciao Cristina," as if he had seen me just the day before and called for Teresa. Without any fuss, coffee was made in the old house where they now lived. Unfortunately they had bad news for me, because of his poor health Asger had just been flown from Italy to a hospital in Denmark. Nevertheless, they let me stay in "my old room" in Asger's house and I enjoyed waking up there with the view over the blue Mediterranean.
So much had happened to the house and garden and it seemed even more magnificent with ceramic works inside and outdoors. It was as if a living organism had been created reflecting Asger's inner worlds. A couple of weeks later, on my way back to Denmark, I noticed with grief a newspaper announcing the death of my uncle.
In the spring of 1994, I again tried to find the old road leading up to the houses, this time with my husband. It was not easy, for in the meantime so much had been built and changed. Berto and Teresa now lived in the "real" Asger house. Once again, I was received in the wonderful old kitchen with Teresa's pesto, marinated mushrooms and the wild asparagus she had found in the woods. They were complaining that the winter had been very hard and had destroyed so many of their flowers.
Berto gave us a ride to San Giorgio, he expressed great concern for Teresa, her memory was no longer what it used to be. That was the last time I saw them.
In the autumn of 2002 I returned again. I had the joy of being invited to the 2nd Biennale of Ceramics in Contemporary Art. My son, Jeppe Hein, is a participant and he asked for my assistance decorating ceramic plates.
On a sunny autumn morning we walked together up to Asger's houses. On the way I told him how I had experienced it all. It was wonderful being back but also sad and dreary. This time there was no Berto calling out "Ciao!" as we walked up. Everything was empty and locked, and the garden was completely overgrown. Most of the ceramic works had been taken away. It was a sad sight; after all, it was intended to be a lively place even after Asger's death. I certainly hope it will once again become what it was intended to be.
However, I am grateful to have had the opportunity to see it all. Therefore I would like to end this by saying to my son Jeppe: Thank you for letting me into your world and for giving me the opportunity to show you mine: My Albissola.

Kirsten Plett is the daughter of Asger Jorn's youngest sister Gudrun Plett.
1 My grandmother Mrs. Maren Jürgensen moved from the countryside to the provincial town of Silkeborg to provide for her children's education after her husband's death. At the time of the move Asger was 16 years old and it was here during his early youth he started to paint and work with ceramics. Silkeborg is also where the Silkeborg Art Museum is located, exhibiting works donated by Asger Jorn including his own works and many other international artists.
2 Umberto and Teresa Gambetta helped Asger with everything concerning the houses. In 1959 they lived in Albissola Marina and Berto worked in Savona. Berto was one of very few survivors from a Russian POW camp during the 2nd World War. The painting Stalingrad (exhibited at Silkeborg Art Museum, Denmark), one of Asger's masterpieces, is inspired by Berto's memories.
3 Ansgar Elde: Swedish sculptor at the time on a study tour in Italy.
Text published in the catalogue of the 2nd Biennial of Ceramics in Contemporary Art, Attese, Albisola (Italy), 2001.