Ceramics in the Noughties
The Attese Edizioni collection in the Ceramics Museum of Savona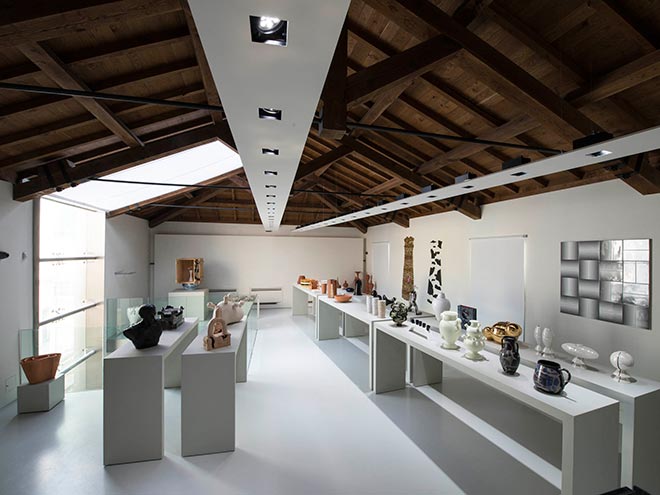 Partial view of the permanent exhibition "La ceramica degli Anni Zero in Liguria. Collezione Attese Edizioni", Museo della Ceramica di Savona. Photo: Fulvio Rosso. Courtesy Fondazione De Mari, Savona
The incredibly bright Open Space, on the last floor of the Ceramics Museum of Savona, hosts a wide selection of the collection created by Attese Edizioni from 2001 to the present.
The collection, acquired from the De Mari Foundation during the recent setup of the new museum that narrates the history of local ceramics, from the 15th to the 21st century, displays prototypes and works created within the context of the interdisciplinary design and prototyping Laboratory of the Biennial of Ceramics in Contemporary Art, promoted by Attese Edizioni in a partnership with the same Foundation, along with the municipalities of Albisola Superiore, Albissola Marina, Savona and Vado Ligure and, over the years, with various cultural institutions and museums in Italy, Switzerland and throughout Europe, such as the Ariana Museum in Geneva, the Mudac in Lausanne, the Italian Institute of Culture in Madrid and the Triennale in Milan.
That laboratory gave rise, first and foremost, to various editions of the Biennial of Ceramics in Contemporary Art, on the successful wake of the numerous Biennials of Contemporary Art that, since the Nineties, have proliferated in many European cities, Asia, the Americas and Africa.
Such a phenomenon is the end result of globalisation and connectivity, factors that have contributed to the re-emergence of the local dimension – a "local" quite different from what such an expression once signified, i.e. the provincial town isolated and relatively closed in terms of its own culture and economy.
The Biennial of Ceramics in Contemporary Art represents a community that has developed cultural activities, as well as forms of organisation and economic models from which a new cosmopolitan localism has emerged, proposing new production and consumption systems while expressing a new and ever more urgent design demand for ceramics that are continuing to diminish and, in point of fact, are on the verge of disappearing.
Drawing on the richness and fragility of the area, Attese Edizioni set the objective of constructing a present and a future for artistic craftsmanship, recouping and actualizing the centuries-old production and cultural-based interactions that on an interregional and transnational scale have historically distinguished the main players in the ceramic area in the province of Savona.
Attese Edizioni aims at investing in an edifying network that, in the area, intends on incorporating immaterial assets, such as design and contemporary art, mixing them with the traditional skill-based procedures of the artisan workshops and the most advanced high-tech techniques, typical of industrial production processes.
Over the last fifteen years, this laboratory has involved and concentrated into a single field of action internationally renowned artists and designers of various generations, ceramists, decorators, potters, model sculptors, craftsman of various production sectors, IT model makers and prototyping companies, curators historians of art and of design like Giorgina Bertolino, Alessandro Biamonti, Roland Blatter, Andrea Branzi, François Burkhardt, Dorian Cara, Tiziana Casapietra, Niccolò Casiddu, Raphael Chikukwa, Cecilia Chilosi, Francesca Comisso, Manuella Denogent, Giacinto Di Pietrantonio, Beppe Finessi, Lauri Firstenberg, Elio Grazioli, Simon Groom, Hou Hanru, Susanne Hilpert-Stuber, Nelson Herera Ysla, Manray Hsu, Linda Kaiser, Vasif Kortun, Young Chul Lee, Corrado Levi, Gianfranco Maraniello, Eliana Mattiauda, Guido Molinari, Hans-Ulrich Obrist, Olu Oguibe, Roberto Ohrt, Francesca Pasini, Simona Poggi, Francesca Pola, Chantal Prod'Hom, Marco Senaldi, Anne-Claire Schumacker and Liliana Ughetto. The end results of the efforts of the Laboratory of Attese Edizioni – the prototypes and works of the collection – are on display at the Ceramics Museum of Savona after having been promoted by the various editions of the Biennial of Ceramics in Contemporary Art and by just as important exhibitions like "Céramiques d'artistes", curated by Roland Blatter, Tiziana Casapietra, Roberto Costantino, Anne-Claire Schumacker, Ariana Musée, Geneva, 2002; "The New Italian Design", curated by Silvana Annicchiarico and Andrea Branzi, travelling exhibition of the Triennale (Milan, 2007, Madrid 2008, Istanbul 2011, Nantou 2012, Beijing 2012, Bilbao 2013, San Francisco 2014, Santiago de Cile 2014, Cape Town 2015); "Handmade in Albisola", curated by Roberto Costantino, Triennale Design Museum, Milan, 2007; "Tavole Meravigliose", curated by Beppe Finessi, Fiera, Milan, 2008; "All Biennials of the World Today", curated by Yvos Mesquita,  28th São Paulo Biennial, São Paulo, 2008; "Vasi Specchio del Terzo Paradiso", curated by Michelangelo Pistoletto, Fondazione Cittadellarte, Biella, 2009; "Quali cose siamo", curated by Alessandro Mendini, Triennale Design Museum, Milan, 2010; "Ospiti inaspettati", curated by Beppe Finessi, Museo Bagatti Valsecchi, Milan, 2010; "La scène française contemporaine – Paris 2010", curated by Jean-Roch Bouiller, Musée National de Céramique-Sèvres, 2010; "Tra gioco e discarica", curated by di Enzo Mari, Triennale Design Museum, Milan, 2010; "Changing the World with a Vase of Flowers", curated by Roberto Costantino, Italian Institute of Culture in Madrid - Embassy of Italy in Spain, 2010; "Straightforward New Finninsh Design 2010 - Meatpacking District", Finnish Cultural Institute, New York, 2010; "Pekka Harni & Yuka Takahashi exhibition", curated by Jukka Savolainen, Design Museum, Helsinki, 2011; "Di vaso in fiore", curated by Beppe Finessi, Museo Poldi Pezzoli, Milan, 2011; "Design. Una storia italiana-1948-2011", curated by Marco Romanelli, Museo dei Fori Imperiali, Rome, 2011; "Cambiare il mondo con un vaso di fiori", curated by Roberto Costantino, Fondazione per l'Arte Contemporanea Pierluigi e Natalina Remotti-Città di Camogli, 2011; "Independent Design Secession", curated by Andrea Branzi and Michele De Lucchi, La Triennale, Milan, 2011; "Ceramique Contemporaine", curated by Roberto Costantino, MUDAC-Musée de design et d'arts appliqués contemporains, Lausanne, 2011; "Ultrabody", curated by Beppe Finessi, Castello Sforzesco, Milan, 2012; "Carte blanche Adrien Rovero-Landscale", curated by Chantal Prod'Hom, Mudac, Lausanne, 2012; "Italian Genius Now", curated by Marco Bazzini, Santander Cultural, Porto Alegre, 2012; "Autoproduzione", curated by Alessandro Mendini, Fabbrica del Vapore, Milan, 2012; "Objecten en territoria", MUHKA (Museum van Hedendaagse Kunst Antwerpen), Antwerp, 2012; "Di libro in libro", curated by di Beppe Finessi, Museo Poldi Pezzoli, Milan, 2013; "Vasi di buona famiglia", Peter Van Kester, Amsterdam, 2013; 10th Day of Contemporay Art "Adrian Paci, Secondo Pasolini", curated by Eliana Mattiauda, Museo d'Arte di Palazzo Gavotti, Savona, 2014; "Andrea Branzi-Please to meet you", curated by Constance Rubini, Musée des Arts décoratifs et du Design, Bordeaux, 2014; "Terra provocata", curated by Guido Molinari and Matteo Zauli, Fondazione del Monte, Bologna 2016.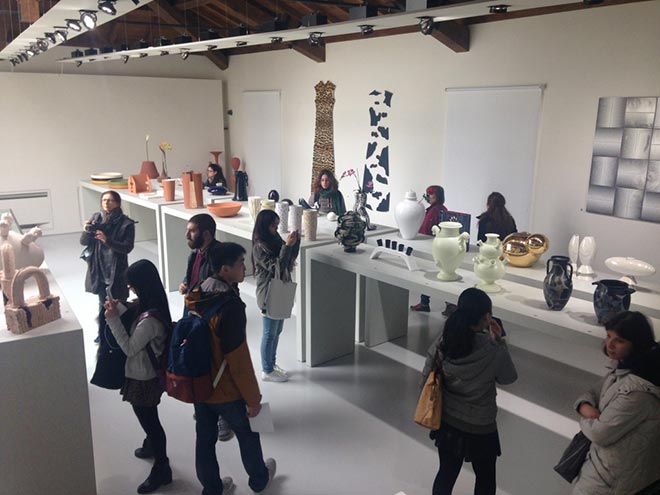 Partial view of the permanent exhibition "La ceramica degli Anni Zero in Liguria. Collezione Attese Edizioni", Museo della Ceramica di Savona. Courtesy Fondazione De Mari, Savona
Ceramics in the Noughties
The Attese Edizioni collection in the Ceramics Museum of Savona

Getulio Alviani, El Anatsui, Simone Berti, Jurgen Bey, Bili Bidjocka, Andries Botha, Claudio Bracco, Andrea Branzi, Linde Burkhardt, Vincenzo Cabiati, Fernando e Humberto Campana, Rossana Campo, Mauro Castellano e Leonardo Gensini, Giuseppe Chiari, Nicola Costantino, Lorenzo Damiani, Amie Dicke, Uros Djuric, Florence Doléac, Yona Friedman, Rainer Ganahl, Alberto Garutti, Alexis Georgacopoulos, Liam Gillick, Marti Guixé, Pekka Harni, Heringa/Van Kalsbeek, Henri Eric Hernandez, Kristian Hornsleth, Christina Iacopino, Joris Laarman, Ugo La Pietra, Marta Laudani e Marco Romanelli, Marco Lavagetto, Gabriel Lester, Corrado Levi, Adeline Lunati, Morgan Maggiolini, Annamaria Martena, Hugo Meert, Alessandro Mendini, Giovanni Occhipinti, Adrian Paci, Michelangelo Pistoletto, Franco Raggi, David Robbins, Adrien Rovero, Denis Santachiara, Shimabuku, Studio Demakersvan, Iké Udé, Paolo Ulian, Guido Venturini, Vedovamazzei, Alberto Viola, Luca Vitone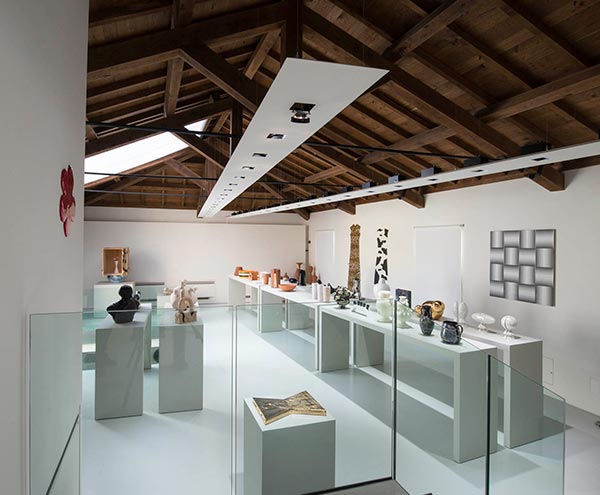 Partial view of the permanent exhibition "La ceramica degli Anni Zero in Liguria. Collezione Attese Edizioni", Museo della Ceramica di Savona. In the foreground: Michelangelo Pistoletto, Il Libro d'oro del Terzo Paradiso. Photo: Fulvio Rosso. Courtesy Fondazione De Mari, Savona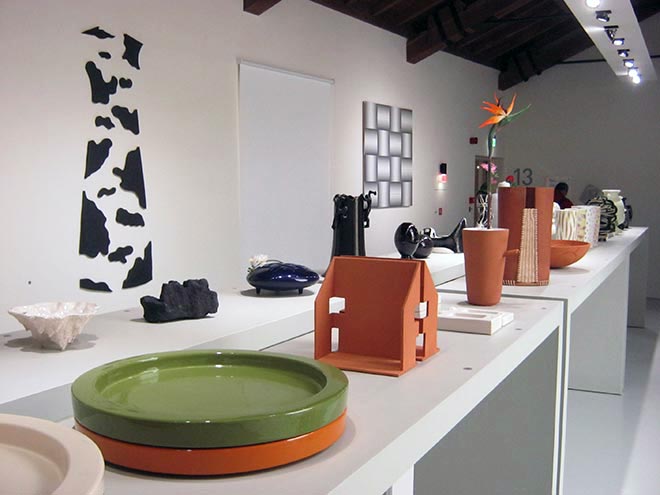 Partial view of the permanent exhibition "La ceramica degli Anni Zero in Liguria. Collezione Attese Edizioni", Museo della Ceramica di Savona. In the foreground, from left to right: Liam Gillick, Multiple Revision Structure, Franco Raggi, Architettura divisa, Adeline Lunati, Preziosi stampi, Alexis Georgacopoulos, Duetto, Fernando e Humberto Campana, Vaso Tegola. In the background, from left to right: Alberto Viola, Centrotavola, Vincenzo Cabiati, Coke, Pekka Harni, Planet B, Hugo Meert, Terrarist, Ugo La Pietra, Salvadanaio. On the wall, from left to right: Bili Bidjocka, Skin, Getulio Alviani, Piastrella. Museo della Ceramica di Savona. Courtesy Fondazione De Mari, Savona

›› More Project - page: 1 2 3 4